Discover more from Mad About Music
The home for people who love music and want to talk about it more.
The Apparently Universal Appeal of Dub
Durable and popular, the form has inspired much over the years, and continues to do so
By Rick Anderson
The word "dub" has lots of different meanings, both musical and otherwise. In the realm of pop music, it refers to a practice that originated in late-60s/early-70s Jamaica: thrifty reggae producers figured out that when they released singles for radio play, they could save money by putting an instrumental version of the A side onto the B side (instead of recording a different song). But this business innovation led to a musical one: producers also saw in this practice the opportunity to exercise musical creativity of their own, and took to altering the instrumental mix by dropping instruments and voices in and out, adding effects like phasing and delay as well and turning the original song into a funhouse-mirror version of itself. This practice proved enormously popular in Jamaica's open-air "sound system" dances, where another innovation sprung up as well: while the "selector" spun the dub version of a song, a "toaster" or "deejay" would pick up the mic and improvise spoken lyrics over it.
For an oustanding example of how dub works, check out the song "Baby I Love You So" by Jacob Miller, and then listen to producer King Tubby's dub version (titled "King Tubby Meets Rockers Uptown," which many — including myself — consider to be the most perfect example of dub ever recorded.)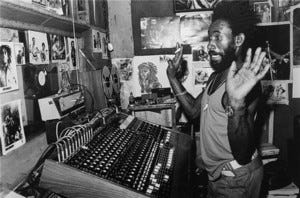 For an example of a "deejay cut" over a dub version, listen to I-Roy's "Roots Man."
Both of these practices, of course, eventually led not only to modern remix culture but, very directly, to the development of hip hop: it was a Jamaican expatriate, Kool Herc, who is generally credited with being the pioneer of rap music in New York.
Unlike many other pop music innovations, dub has proven to be exceptionally durable, penetrating a wide variety of musical styles and cultures and remaining a touchstone concept in music production today. Songs that have no relation whatsoever to reggae will be released in remixes labeled "dub" versions, and dub itself has become an organic and highly international musical style, with hundreds of artists making dub-inflected music that isn't based on any preexisting material.
For a few more excellent examples of old-school dub, check these out:
And to see some ways that dub has permeated modern dance and pop music, consider these examples:
---