Discover more from Mad About Music
The home for people who love music and want to talk about it more.
Review: Pink's "Hurts 2B Human"
A reliable powerhouse continues her history of collaborations that mainly work
By Kent Anderson
For a sneakily long time now, Pink has been topping the charts, wowing crowds with her ambitiously physical shows, bending culture with her shameless honesty, and blowing away skeptics with vocals that dazzle.
Her newest album, "Hurts 2B Human," continues many of these traditions. Her voice sounds great. Her songs are consistent, with the main downside being that they are clearly in the same vein as much of her other work. And her collaborations are more numerous and generally work well.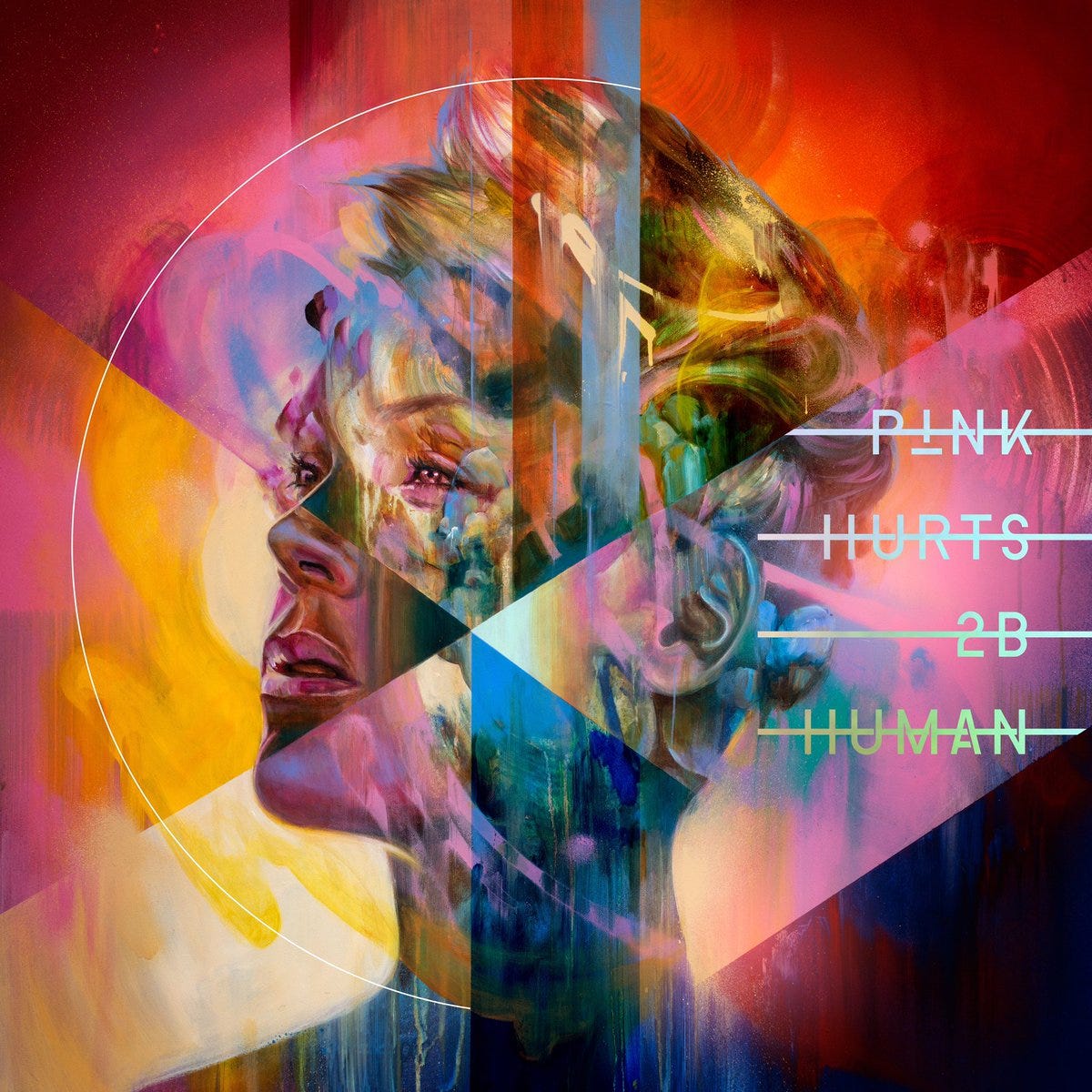 As a keyboard player, I have to emphasize how terrific the keyboards are on this album. The electric piano on "Hustle" goes into a warm lounge zone mid-song, and hangs a chord in the middle of the song that always gives me a thrill. The second song on the album, "(Hey Why) Miss You Sometimes" has one of the best, snaky keyboard riffs I've heard in a long time, bringing to mind Billy Preston or Stevie Wonder. It's a great riff that is embellished beautifully throughout. The keyboards on Pink's songs have always stood out, including the excellent, subtle work on "What About Us," which I talked about here.
Overall, the album works beautifully, with few quibbles. The opening song, "Hustle," is complete fun, whether you enjoy the dirty version or the clean version. (I like the dirty version slightly better — nothing like a good f-bomb when needed. And, yes, swearing makes "Die Hard" a better movie.)
Pink is known for her collaborations — from Nate Ruess to Steven Tyler to Eminem — and her album-length collaboration with Dallas Green as "You+Me" is remarkable itself. Pink is a confident artist. She doesn't mind sharing the spotlight.
On "Hurts 2B Human," collaborations with Wrabel, Cash Cash, and Khalid all work. The collaboration with Chris Stapleton on "Love Me Anyway" sounds great, but in my opinion the song could have been longer so there's more from Stapleton. It's such a lovely song, but feels slightly unfinished.
One pain point as someone who still buys music through iTunes is about the metadata for this album when it comes to the collaborations. None of the collaborations came through as part of the album initially, as the metadata flagged them as separate artists, each with an album called "Hurts 2B Human." I had to manually go in and scrub the metadata to get the entire album to play together and in order. That's sloppy on someone's part.
"Hurts 2B Human" isn't a stretch for Pink. It's a great artist in her prime doing great work right in her wheelhouse. For an artist of her ability and honesty, I'm fine with that. If you're looking for something completely different from her, this might disappoint. Me? "Hurts 2B Human" is in heavy rotation in my earbuds.
---