Discover more from Mad About Music
The home for people who love music and want to talk about it more.
Review: "Dogrel," by Fontaines DC
Cracking debut by lyrical Dublin rockers deserves highest praise
By Tim Gillett
Over here in the British Isles, the annual Mercury Prize is a big deal. Conceived in 1992 as a less commercial alternative to the Brit awards, it's granted to what's judged to be the best album released in the UK by a British or Irish act. 

The Mercury Prize has long had a reputation for favouring "alternative" music but it's open to all genres — pop, rock, folk, urban, grime, dance, jazz, blues, electronica, classical . . . whatever. Previous winners include Suede, M People, Pulp, PJ Harvey, Roni Size, Arctic Monkeys, Elbow, The XX, Skepta, and Alt-J. Interestingly, Adele and Radiohead have been nominated multiple times, but neither has ever won.

This year's prize will be awarded towards the end of September, and as usual the shortlist comprises an eclectic mix of artists.

My personal favourite for 2019 — and one of the best albums I've heard in many a year — is "Dogrel," the debut album from Fontaines DC.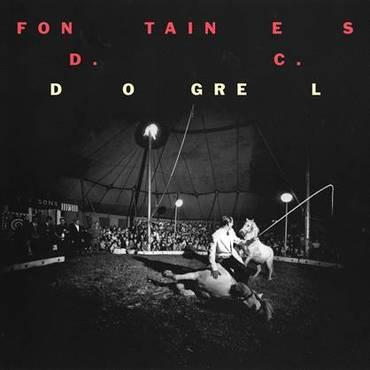 This Dublin-based five-piece have only existed for three years or so, and I only became aware of them with the release of their single "Big" a few months back — it's less than two minutes of utter brilliance that showcases everything great about music that I love: raucous guitar-based rock with a twist, meaningful lyrics full of personal and political attitude, and liberal use of the rhyming couplet.

The first line of the song (and album):
Dublin in the rain is mine
A pregnant city with a catholic mind
This sums up so much about "Dogrel" the album (the dictionary definition of dogrel — the noun — describes it as: "crudely or irregularly fashioned verse, often of a humorous or burlesque nature.")

There's huge amounts to admire, musically and lyrically. The chord progressions are simple but the songs display an abundance of darkness and light, with enough discord and wonkiness to please this old rocker. In Fontaines DC, I can hear Pixies, Black Sabbath, the Fall, the Clash, Joy Division, the Smiths, the Pogues . . . I could go on but it won't do justice to this album, which at once sounds like a classic but utterly individual, original and modern.

Pounding — sometimes manic — drumming, thumping bass lines, and a dual-guitar assault on the senses — what more do you need?

Frontman Grian Chatten's lyrics are the icing on the cake. Never over-complicated, but thoughtful and beautifully delivered in his unmistakable Dublin brogue, his words portray a series of tableaux from across the Irish capital — encompassing its characters, its history, its street life and its politics. There's humour, there's grit, there's anger, and there's melancholy. I could almost invoke Ian Dury, by golly.

From "Boys from the Better Land": 
The radio's all about a runaway model
with a face like sin
and a heart like a James Joyce novel
From "Too Real":
Now a gusty shower wraps the grimy scraps
Of withered leaves all about your feet
And then the wringing of a twitching hand
Six o'clock, six o'clock
Chatten's lyrics draw you in and spit you out again in a torrent of wordsmithery as rough as Irish rust but as smooth as treacle. 
"Dogrel" has become my default running soundtrack in the three months since I bought it, and it gets better with each listen — the mark of a great album. If there's any justice (and with no disrespect to any of the other shortlisted acts), "Dogrel" will win the Mercury Prize and in years to come it will become known as a true Irish classic.
I'm off to buy a copy for my little brother; I know he'll love it too.
---
Tim Gillett is a journalist who also sings and plays guitar in a band.
---